Rabble Role model – Sam Boger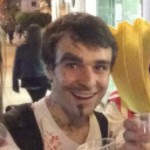 Sam's the silent assassin you hope will end up on your team. He will score plenty of points, win or lose with a smile on his face never taking himself nor the games to seriously. Have you ever heard him complain? He's become an important part of the social crowd, valued highly for his kindness and it seems ultimately happy to play anything. Including strange spontaneous games in pub games enforced by Henry.
Rabble Rouser – Andrew Ferraro


Such an awesome sport, quick witted and great fun. He gave us the best backlash to our Moctober, giving us back ten times what we gave him! The gentlest of rousers, getting stuck into games, events, challenges and so an amazing asset to rabble on and off the pitch.

Rabble Rogue – Junbo Chan


Judged the winner of Rabble's Moctober for getting everyone to crack an egg in their drink and finish it. People will apparently do anything to win a scavenger hunt. He rebelliously orders tea in the pub, tests the rules to our games. Shares date night ghost stories with Henry. Organises great socials and plays hard but fair.
Rabble Rookie – Joe Bloom


It feels like this northerner has been part of the Rabble forever. Awesome on and off pitch attitude, already seamlessly involved in games and socials. We love his positivity and banter and look forwards to more. This man will be dangerous!