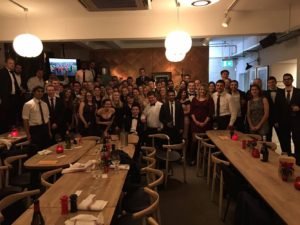 The annual black tie dinner and awards night is always a great excuse to get glammed up and remember an epic year and celebrate everyone who helped make it what it was. With so many incredible people in Rabble it was almost impossible to choose our winners but our stand out heroes for 2016 really went above and beyond.
Rabble Role Model – Oli Miller.
Oli is always always on hand to lend a hand. Whether it's to the instructor in the session, the newcomer on the day or behind the scenes organising events or socials. For example travelling all the way to Finsbury park (for the first time?!!) to help set up and score because he was unable to play! He's always welcoming to new players. Oli plays hard and often (the most times this year 184 since Jan) but always with respect to other players and inside the rules. Oli is a truly deserving winner of this award!
Rabble Rouser – Samantha Doe
Samantha is that girl who makes everyone feel at ease, if it's your first Rabble session you will remember Samantha, for her positive and passionate on pitch encouragement. And welcoming chat before games. She always gives people the credit that they deserve and creates a positive atmosphere. As a long time player Samantha recently became a much loved instructor impressing during training and she helps (a ridiculous amount) with Rabble social media! Thanks so so much for your help this year Samantha!
Rabble Rogue – Vicki Varosky
Vicki is a Manchester player who embodies the spirit of Rabble. Only arriving recently from Canada she has barely missed a Rabble game or social. She is instrumental in helping instructor Kieran run sessions and socials. And she's always looking out for other players both before during and after Rabble games. The friendliest of rogues Vicki will make you feel at ease and then quickly tag you out of the game!
Rabble Rookie – Andre P-L
Andre is a new Rabble member who's averaged an impressive 16 games a month since his arrival! Since Andre's first session he got stuck straight into the games, pushing hard in the sessions whilst being respectful and positive on the pitch (despite taking so long to get changed!). Andre has also a great social member joining us for most of our activities since arriving. We look forwards to much more from Andre in 2017!
Rabble's Rabbler  – Phoebe M
Phoebe is a well deserved winner of this award having been playing with us for almost two years and being a consistent and regular player during this time. Phoebe has made a huge improvement in her fitness since joining Rabble and is sometimes underestimated being small in stature, quiet and unassuming. However she is rapid, stealthy and has a good head for tactics, she's an asset to any team. Phoebe in addition to being a great player is always friendly rather than overly competitive and very quick witted making us laugh. She's a great Rabble member and deserving of this award.
Best team of 2016 went to Cambridge who as one of our youngest areas managed to field a strong team in both Intercity games this year, including one in onsies! They have grown from strength to strength since their opening 6 months ago and now are a tight knit and supportive community! Well done guys!
We also recognised the instructors without whom the games couldn't happen and the social secs who have welcomed so many new faces this year and are plotting even more deeds for next year.
And the night wouldn't be the same without the many comedy awards of 2016 but sadly they couldn't possibly be reported on here…