The Intercity Games 2017 is only 2 weeks away! This time Manchester are preparing to host and, wow, don't they have plans.
On June 10th 2017, teams from across the country will be descending on Manchester College, just 10-minutete bus ride south of Manchester Piccadilly station.
Eight games will be played in the 2017 games. Each is one of the Rabble standard games that all players will have experienced in training (although there maybe a few unexpected twists!). Players will have to adapt to the final variations of the rules on the day. And of course there will be huge numbers of players, which always requires the teams to focus on their own strategy amongst the chaos!
And after all of the action, players will get showered and changed at the venue, and then over to Artisan Bar & Kitchen for much earned drinks, dinner and dancing!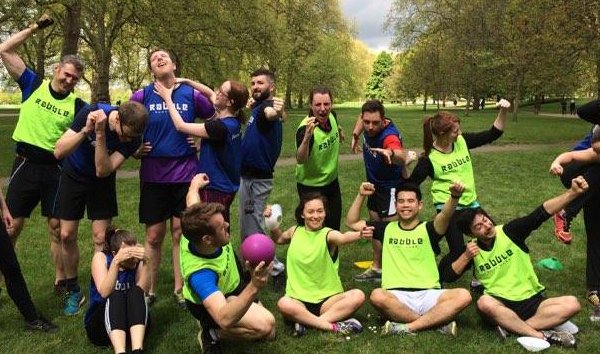 As usual, the games will be spread over three rounds. The first round will be a seed round for the following rounds and is composed of all-in games. There will be over 60 people chasing for points for their team. The most challenging game expected in Round 1 will be a variation of Game of Thrones. Our Finsbury Park (8th in 2016) instructor Steve Barker advises "Concentrate on which bases need capturing – it's easy to get caught up in trying to keep possession and lose sight of the task at hand. Keep communicating and make use of space to ensure you can receive the ball – forming a line towards a base is a sure-fire way to quick captures!"
Round 1
To Be Revealed
Game of Thrones
To Be Revealed
The scores from round 1 will be totaled and teams will be seeded into two leagues. Teams that rank in the top half will join League one and the others will join League two. In Round two teams play the teams in their league across three totally different games. Teams will score 3 points for each game won, 1 for each draw and 0 for each loss during the second round of games. This year we will be including ball tag as one of the games in round 2.
Round 2
To Be Revealed
To Be Revealed
Ball Tag
In the final round, teams will play their adjacent team in the rankings to determine their final position!! This year the final will be a variation of the President. Dan Burling Rabble's Cambridge instructor has said that he'll be advising his players to 'Work together as a team, sometimes you may have to sacrifice yourself or bluff yourself to victory!'
Final Round
Last year Clapham took the victory, with Kings Cross in 2nd, Hyde park 3rd and Cambridge in 4th. So all eyes will be on Clapham this year. We have new entrants in the form of Chester and Edinburgh, so we look forwards to welcoming them into the games.
It's going to be an exciting afternoon and certainly not one to be missed. We look forwards to running like f*ck and then celebrating like f*ck another incredible Rabble year!
Tickets are still available if you'd like to join us for the Intercity Games on the 10th June at the Manchester College. You can also reserve your space for the dinner.
Book Now