With the Intercity Games 2016 only four days away. For the first time ever the schedule of games has been released.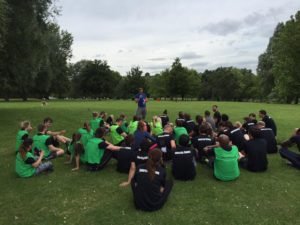 Teams from across the country will be descending on Finsbury Park in London this Saturday. The games will be followed later in the evening by the Annual Awards & Black Tie dinner.
Eight games will be played in the 2016 championship. Each is one of the Rabble standard games that all players will have experienced in training. Players won't be aware of all the final variations of the rules until the day. There will undoubtedly be a few twists in the games. And of course there will be huge numbers of players, which always requires a different strategy.
The Intercity Games this year is spread over three rounds. The first round will begin with many all-in games. There will be over 60 people competing against the others for points for their teams. The scores from Round one will be totalled and teams will be separated into two Leagues. Teams that rank in the top half will join League one and the others will join League two.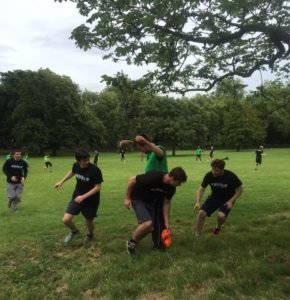 In Round two, teams play with and against all the other teams in their league in three more games. Teams must work with their rivals, in order to succeed in this round, it's also a great opportunity to get to know some people from other areas.
The final this year is Circular dodgeball. Teams will play their adjacent team in the rankings to determine their final position. Noting that everything comes down to this games Kieran Ashton (Instructor – Manchester) says this is one of Manchester's strongest games and tips them for having a good chance at Gold.
Each game will test a different fitness component. Stag Stalker is included in this year's games, which is renowned as one of the most brutal endurance games in the line up. Dan Burling, Rabble's Cambridge instructor, has said that he'll be advising his players to 'Run like f*ck.' It's pretty much the only way to stay alive in a 60 man game!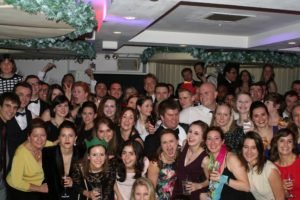 Endzone, a cross between American football and rugby, is a Rabble favourite. George Wells (Manchester) recommends that players keep moving so as to create space to pass into. Quick points are out there to be scored if you keep your opposition struggling to mark you across the whole space.
More strategy again is required for Capture the Flag, a game of speed, strategy and timing. Containing challenging simultaneous attack and defence. Vicki Varosky (Manchester) explains that she uses her team as a distraction and then chooses to attack where the other team isn't looking.
It's expected that the games players are going to struggle the most with is Quidpitch. A tricky game based on the Harry Potter magical game with 4+ balls!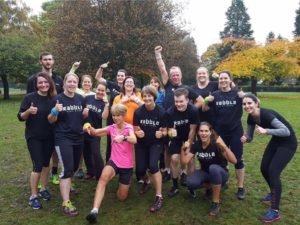 A Quaffle which can be scored by catching it inside one of the other team's bases, a few bludgers (dodgeballs) that will be used by both teams to impede progress. And finally the snitch, which is worth more points but much harder to score. Disorganised teams are heavily penalised in this game. Oli Miller (London) has seen the most successful teams are those who assign players to each ball, watching out for the bludgers and using them effectively.
It's going to be an exciting afternoon and certainly not one to be missed. We look forwards to running like f*ck and then celebrating like f*ck another incredible Rabble year!
Tickets are still available if you'd like to join us for the Intercity games this Saturday, however tickets have now closed for the Black Tie dinner.