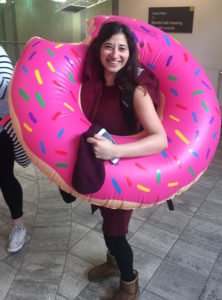 Rabble pool party, a whale of a time!
It was sometime last year that I had the idea of playing in the pool. Nothing fun happens in the pool as an adult. You swim up and down or you join aqua aerobics. Neither of which light a fire of excitement inside me.
But I remembered times long ago when swimming was inflatables, floats, hoops to swim through, bricks to collect from the floor, slides and friends! We used to have pool parties, they were chaotic, shattering and wicked fun. Where did we lose that?
So we decided to bring it back! Of course, I underestimated how straightforward it would be for a group of adults to simply hire a pool. Many pools we contacted only permitted kids parties. They were unwilling to enter discussions on how 'kid' was classified or why this was the case.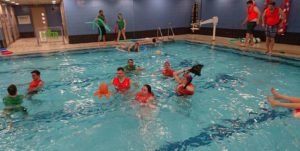 It was ironic that space was available but denied to us. Swimming pools, are under pressure as they typically lose money, to diversify usage. In the end, we booked a party and mentioned casually sometime later that although most participants were kids, none were under 18.
There was also a level of apprehension amongst the initially keen group on the idea of getting into the water. As kids there was no social anxiety, there was no fear about what everyone was wearing, whether we were a good enough swimmer, whether we would get a workout and whether we were summer body ready. The idea of a swimming game was exciting, but the practicalities of actually going there, presented an adult shaped barrier.
Luckily I was not alone and 16 brave Rabble water babies joined in the first session. I was super excited to run the game, I was excited for water polo, swimming tag, collecting things from the bottom, swimming through hoops, jumping, diving, splashing and smiles. I used to love going swimming as a kid, I was excited by the idea of creating a wicked experience for our players.
It was a tough ask for all, the swimmers trying to keep their heads above (and sometimes under) water and for me to make myself heard amongst all the splashing, I was also hoping that my planned games would work! All fears were lost in seconds as we bombed into the pool focusing on the games and balls as expert and less confident swimmers played alongside each other. It was quickly noted that running fitness does not translate to the pool and that it was a nice opportunity for some to turn the tables on the quickest runners.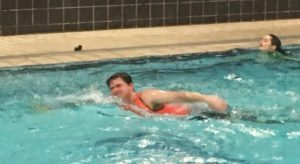 It was satisfying to note that it was a success. Restoring my view of swimming pools as somewhere that excitement could happen. It was brilliant fun from beginning to end, everyone left the pool, wet, smelling of chlorine, with huge smiles, tired arms, an enormous appetite and a warm feeling of satisfaction! Exactly how did we do it as kids!
I hope we can find a way to run some more games in the water. I would love to look forwards to going to the pool regularly. It's a great way to include a more strength based workout, hopefully improve the confidence and skills in the water of those who are less confident and have an absolute whale of a time at the same time!
Unfortunately we are still struggling for a practical home but if anyone knows of any pools with an open mind – give us a shout!