1.Explore!
London is huuuuge and there's so much going on! Now there's no more heading to work and getting home in the dark, there's plenty of opportunity to check out something new. The shining sun greets you every morning leaving you bouncing to work. And the long light evenings means that playtime is extended! And we LOVE playtime!
2. Playing in the park
Now is a great time to get out in the parks. Many of the London parks have been professionally planted and the fauna is amazing, many parks also have an interesting array of birds. If you like plants check out these secret gardens of London, we'd heard of very few! From the many organised sports and activities like Touch rugby to the more unusual games like British Bulldogs or Capture the Flag to a casual kick about or Frisbee and for the more adventurous still check out our list of places for boating! It's a great escape to head to the park after work or at the weekend to relax and escape from the urban jungle.
We LOVE swimming outdoors and London is not short of options. From the heated outdoor pools such as London fields Lido and the Oasis Sports centre, to the unheated outdoor lidos for the brave (Tooting Bec Lido and Parliament Hill Lido. To the raw outdoor ponds on Hampstead heath and Serpentine Lido almost untreated and unheated but absolutely stunning.
4. BBQ's and picnics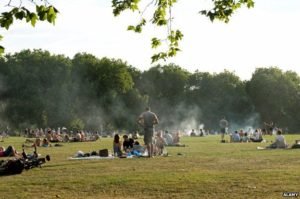 There's nothing better than a post work picnic or BBQ. Vast volumes of sizzling meat and cool beers. Fortunately, London understands how important the BBQ is to our summer initiation and so there are several parks that allow BBQ's! Wahoo!
5. Central London beaches
For those days when you can't make it to the beach. It comes to us! Last year London's beaches included Camden beach, Beach East and of course the famous South Bank beach. Offering everything from deckchairs, to beers to volleyball. And since most are free, it's a total must do!
Less to wear and less to carry, enter the skirts, shorts and flip flops. Exit the coats woolly jumpers and others. And less kit means less to carry and less to lose. And how do we forget about the tanning opportunities (but be careful of this!?)… What's not to love!
7. Rooftop treats
London is not short of rooftop experiences. Think sun, beers, mates and VIEW and… They are hard to resist, from rooftop cinemas, to bars, hot tubs, restaurants, workout spaces and galleries. The roof top has become a prime space and rightly so, nothing beats a view!
If you have any other awesome things to do this summer. Let us know! We'd love to hear about them 🙂